We make websites multilingual and go global. With GTranslate you will get more international visitors and reach global markets.
GTranslate is a leading website translation services provider since 2008 and powers more than 500.000 websites worldwide.
We focus on small and mid-size companies with very tight translation budget.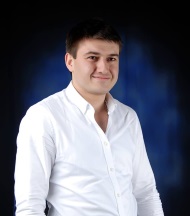 Chief Executive Officer
Edvard Ananyan
The creator of GTranslate. The founder & CEO of GTranslate Inc. A young physicist holding Masters degree from YSU.
He started his IT carrier in 2006 with an associate programmer position at Netsys JV LLC. In 2009 has been selected as a Google Summer of Code student and worked with Google Inc where he created Working Copy extension for Joomla. From 2010 to 2016 he had a consulting contract with The World Bank where he was developing Complaints Logging System for project management and anti-corruption purposes.
He likes football and is a big fan of Manchester United. He is passionate about cars.
Knows Armenian, Russian and English. Explores German.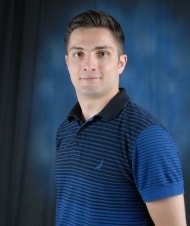 Deputy CEO
Rafael Hovhannisyan
Rafael is a business consulting professional with strong background in engineering. He holds Master of Business Administration (MBA) degree from American University of Armenia (an affiliate of the University of California) and PhD degree in engineering from Yerevan State University. In 2013 Rafael has been recognized as the best PhD student of Armenia in IT sphere and received the first prize at the annual Presidential Awards in IT Sphere.
Before joining GTranslate Rafael has worked as a business consultant at Grant Thornton Consulting (a member firm of Grant Thornton International) - the leading business consulting firm in the CIS region.
Like Edvard, Rafael is also a big fan of football.
Knows Armenian, Russian, English, and Italian.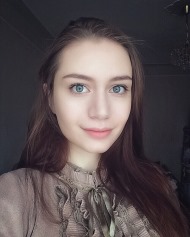 Support Team Expert
Susanna Torosyan
Susanna is a student at Yerevan State University, at the department of Psychology. She has worked in Hospitality indurstry for 4 years. Starting as Front Desk Agent in 2016, she continued her career at Sales Depatment later in 2019.
As a person who loves learning new things, was happy to use the oportunity and dive into brand new sphere, starting her journey in IT with GTranslate's team in 2020, and found new motivation for professional growth.
Has a strong passion for writing. Her goal is to write her first novel in the near future. Best stories in books, films and games are the main source for her inspiration, as well as observing human nature and philosophy of our life. She also likes drawing and rock music.
Knows Armenian, Russian and English.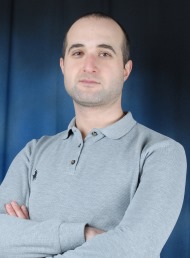 Technical Team Supervisor
Arshak Nersisyan
Arshak is from the Brusov State University of Armenia. His major is Pedagogy and he was graduated with honor.
During his studies, he started learning web development on his own and attended courses in his home city, Yerevan. His career started in May 2019 as a Junior Full Stack Web Developer in one of the well-known Armenian IT firms.
In July 2020 after successfully completing 2 big projects, he decided to work remotely via Upwork, which gave him a big experience in working with international communities.
He is a big fan of football.
Knows Armenian, Russian, English, and French.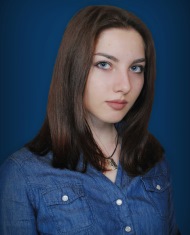 Technical Team Expert
Suzan Shahinyan
Studied at National University of Architecture and Construction of Armenia. She was working at 360stories as a VR video editor. Participated in web development projects at Basic IT Center.
Suzan is a professional horseback rider. She's fond of drawing, reading and playing piano. Also she started taking boxing lessons few years ago. Loves animals and exploring everything about them. Trains and works with horses, dogs and lions. Being at rock concerts is one of her passions.
Knows Armenian, Russian, English, explores Spanish.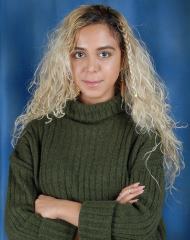 Support Team Expert
Elmira Poghosyan
Ella studied at American University of Armenia (Business Administration). After working in Marketing and Sales sphere for several years she ended up in IT sphere. Continuing career digging deeper into development is her goal for now.
The main passion is dance, especially social dances. Those are danced in couples and can be led and followed, thus giving people ability to dance with a stranger. Traveling the world is one of her dreams. She also loves nature, animals, rock music and adventures.
She strongly believes that if you dream big, dreams do come true.
Knows English, Armenian, Russian, explores Italian.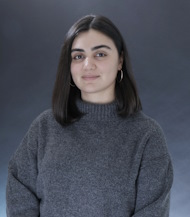 Support Team Expert
Ellen Karakhanyan
Ellen studied at Yerevan State University of Languages and Social Sciences. She holds a Bachelor's Degree in English-Armenian Translation. After volunteering for a couple of projects, being a part of AIESEC in Armenia for over a year she found herself in the sphere of inbound tourism. Starting as a Customer service administrator in 2018, she consequently achieved the position of Customer Service Responsible in early 2020.
Ellen joined our team in 2021 and discovered a new professional direction which she is eager to explore.
She loves watching series/movies, reading books, walking with some good company or music.
Knows Armenian, English, Russian, and a bit German, which she plans to improve every year.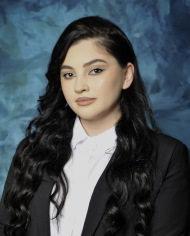 Support Team Expert
Jeimar Partenadze
Jei holds a Bachelor's degree in Finance from Batumi Shota Rustaveli State University. She is also a graduate of the MBA program from ICARE/ATC in partnership with Texas A&M University and the Armenian National Agrarian University.
Her field of studies has never limited her from trying different kinds of careers, so she started to explore the hospitality industry with her first job in customer support, continued in Human Resources, and ended up in the IT sphere.
Being always open to challenges that brought her success a lot of times. The President of Georgia has awarded her with a laptop and a Golden medal for her graduation with honors from secondary school. She has also won scholarships three times and attended Universities in Armenia and Spain.
Jei enjoys watching Netflix shows, playing video games, cooking, and traveling.
Knows Georgian, English, Russian, and a bit of Armenian.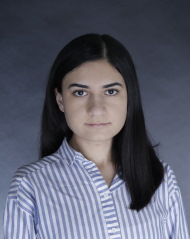 Support Team Expert
Milena Santrosyan
Milena is a graduate of Brusov State University, in the field of Translation and Intercultural Communication. She started as a volunteer in a Language Center, then continued her career in Customer Support for about 2 years.
As someone who is free-spirited and passionate about many aspects of life, she is very much into art, movies, dancing, and books. Not only does she like reading books, but she is also very talented at writing short stories (though she will tell you she isn't). Music is a way of expression for her, if she shares new favorite songs with you, she definitely likes you.
She joined GTranslate in October 2022 and she finds that this field is where she is meant to be.
Knows Armenian, English, and Russian.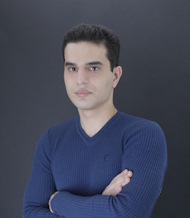 Support Team Expert
Grikor Ferechetian
Grikor holds a bachelor's degree in Law from the French University in Armenia. He loves watching movies and TV shows and is always eager to analyze plots and characters. He is passionate about sports, especially football, and is a big fan of Manchester United. He has also pursued his passion for chess since his teenage years and has competed in several local tournaments.
Despite having a legal background, he made the bold decision to change his career and channel his analytical mindset towards the exploration of frontend web development. Looking ahead, Grikor has big aspirations in the field of web development, and he is excited to continue honing his skills in the tech field.
Grikor believes that being open and direct is the key to fostering genuine and effective communication in both his personal and professional relationships.
Knows Armenian, French, English, Russian, and a bit of Japanese.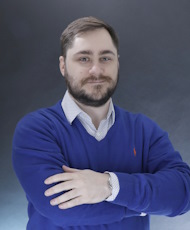 Support Team Expert
Dmitry Gorbachev
Dmitry has a bachelor's degree in biotech systems from Russian Technological University and a degree in masters (MBA) International Graduate Business School. Also, Dmitry has 15 years of experience as a musician, including 5 years of playing in orchestra.
His way started at the bio-medical lyceum, but he changed his subject to a more technical one and applied for bio tech systems, however, his first job experience was as a purchasing specialist in Renault-Nissan-Mitsubishi. A few years ago he decided to follow the global trend and switched to the IT sphere.
Being diversified Dmitry was playing music, dancing, doing ship modeling, traveling, and many other things, but cooking became the most beloved hobby for him. He enjoys cooking, gaming, and watching movies, and since the beginning of 2023 joined GTranslate.
Knows English and Russian.
Of course we are different, but we all are young and dreaming for a great future. We are best friends and we are multilingual!
Try GTranslate with a free 15 day trial