If you have made up your mind to make your website multilingual, then you already know how beneficial it can be for your business.
It can basically help reach a broader audience, show your clients/customers that they matter, improve your SEO results, boost your sales, and eventually establish your company as a brand.
But the translation and the localization processes can take time and resources.
What to do to simplify them?
Well, you can use a tool that automatically translates all the pages of your website and provides you with other perks as well.
One such tool is GTranslate which works well with WordPress, Joomla, Drupal, Shopify, Magento, and even HTML websites built without any CMS.
The setup and the configuration are as easy as one-two-three! Besides, the support team is always there to help and guide you through the whole process.
So, let's just forget about the configuration and focus on the perks more.
What do you get by opting for GTranslate?
Let's make it clear: you get your ticket to the global community.
But there are other perks too:
Search engine indexing
So, you don't have to be an SEO guru to have your website indexed by different search engines. Once you have a multilingual website, it will be easier for you to appear in search results in different languages. Ranking high in those search results will be another thing you should think about though. So make sure to have a proper SEO strategy in place. And optimize the translated pages with relevant keywords and meta tags in that specific language.
Going on with this one, note that you will have a separate URL for each language - for example, http://fr.domain.com or http://es.domain.com or http://domain.com/de.
Also, note that you can have a separate domain for each language such as domain.fr for instead of domain.com/fr or domain.de instead of de.domain.com.
This will help simplify your SEO efforts.
Another important perk that you will get is the URL translation. If you are really into multilingual SEO, then you will certainly value this feature!
Machine translation and neural machine translation
Since both Google and Bing provide automatic translations for free, you will have these integrated into your free plan. This basically means that once you install GTranslate, your whole website will instantly be translated into multiple languages.
For a more elaborate translation, you can pick one of the paid plans and enjoy Neural machine translation.
Translation editor
It's fine that you may not like ALL the translations that have been done automatically. You might want to edit them or change something in the text, or you might just want to change the visuals inside the page for better website localization. This is great. You are free to do so since you will always be able to manually edit the translations with the inline editor directly in the page you want edits to appear at.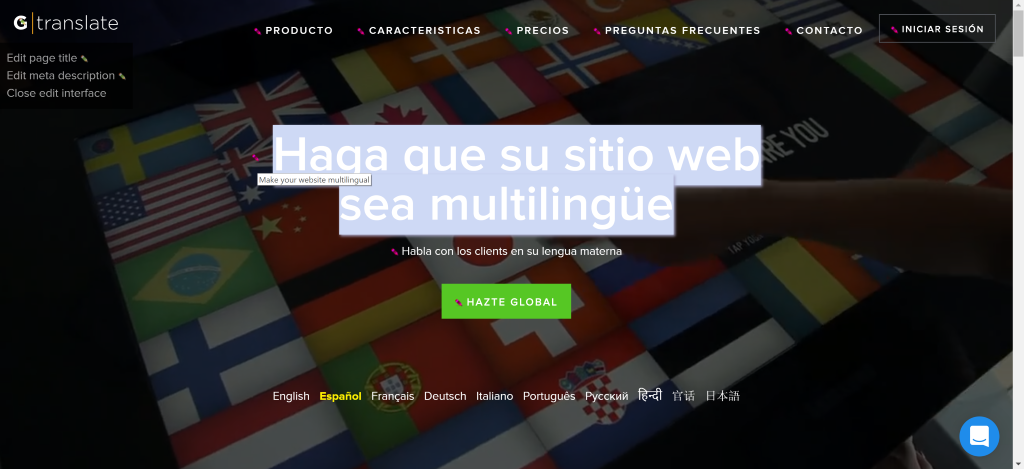 User dashboard
GTranslate will provide you with a user dashboard where you can track and measure all your efforts. Note that this goes into the paid plans only and can help you see and manage:
General info about your subscription such as the status of your service, the age of your account, number of discovered and edited texts
Analytics on translated pages
Guidance on how to configure the service
Settings allowing to skip translation of some word, phrases, or even entire pages
List of collaborators you may add to help in managing your translated pages
Billing info
And many other advanced settings
Professional translation
Besides automatic translations, you can order a professional translation or a review by a native speaker. This is a separate service which you can opt for if you want to take your website translation to the next level.
Easy updates
We all have got that super cool app that won't work perfectly if we forget to install the latest updates, right? But that's a real headache. So, with GTranslate, there is no such thing as having to remember to update the app. We do it all for you. Automagically! Just enjoy your website translation service. Every. Single. Day.
Super-cute customer support
Why is this even in the feature list? Because at GTranslate, we pride ourselves on having a top-notch support service. Let us describe it this way - we won't sleep at night if we know that even one of our users is having trouble with setting up, configuring or using our product. So, we make sure to help and guide our users on a day to day basis. And we also work on making our customer care even better every day.
Summing up
GTranslate is a product that is there to serve millions of people in their goal of translating their websites to reach more people. We want to make sure that you achieve this goal efficiently, quickly, and without much effort. And know that we are here for you on every step of the way!
You are gonna rock it!