When people say "translation services", they usually imply the services provided by professional translators. For example, when they say "professional website translation", they mean that a translator is going to translate the website content into a language manually. Translators usually perform translations in 1 or 2 languages. Sometimes, if you are lucky enough, you will get a translation into several languages too. But never into a dozen languages.
So, if you want to translate a website into say 20 languages, you might need to hire 5-6 translators if not more. Is this going to cost you a lot of money? It definitely is!
Thanks to the technology, there are automatic translation tools out there on the web which you can use to translate pretty much anything posted anywhere. However, automatic translation tools are not always perfect. While automatic translation continues to improve day by day, it is still unable to reach perfect levels of accuracy, and it also lacks a natural feel. So, will it replace natural translation one day? It has all the chances to do so.
For now, you need to find the best automatic translation tool out there to translate your website. GTranslate can be a perfect fit because it:
Provides an instant translation of the website
Provides a fast delivery of translated pages through search engine friendly URLs
Helps increase the website traffic
What about the quality?
As mentioned above, even the Neural Translation provided by major companies like Google are not perfect yet. So, if you want a perfect translation of your website, but you also want to avoid the hustle of hiring over a dozen translators for the job, you can just opt for GTranslate's professional translation service.
GTranslate combines automatic translation with post editing service which provides the best translated texts as a result.
It's that simple!
So you basically have two options here:
Hire a professional to translate the website from the original language into the preferred foreign language.
Assign a task to a native speaker to proofread the automatic translation that GTranslate has provided you with.
Here is how it works:
First of all, you should visit Website Translation Quote page and fill in all the required fields.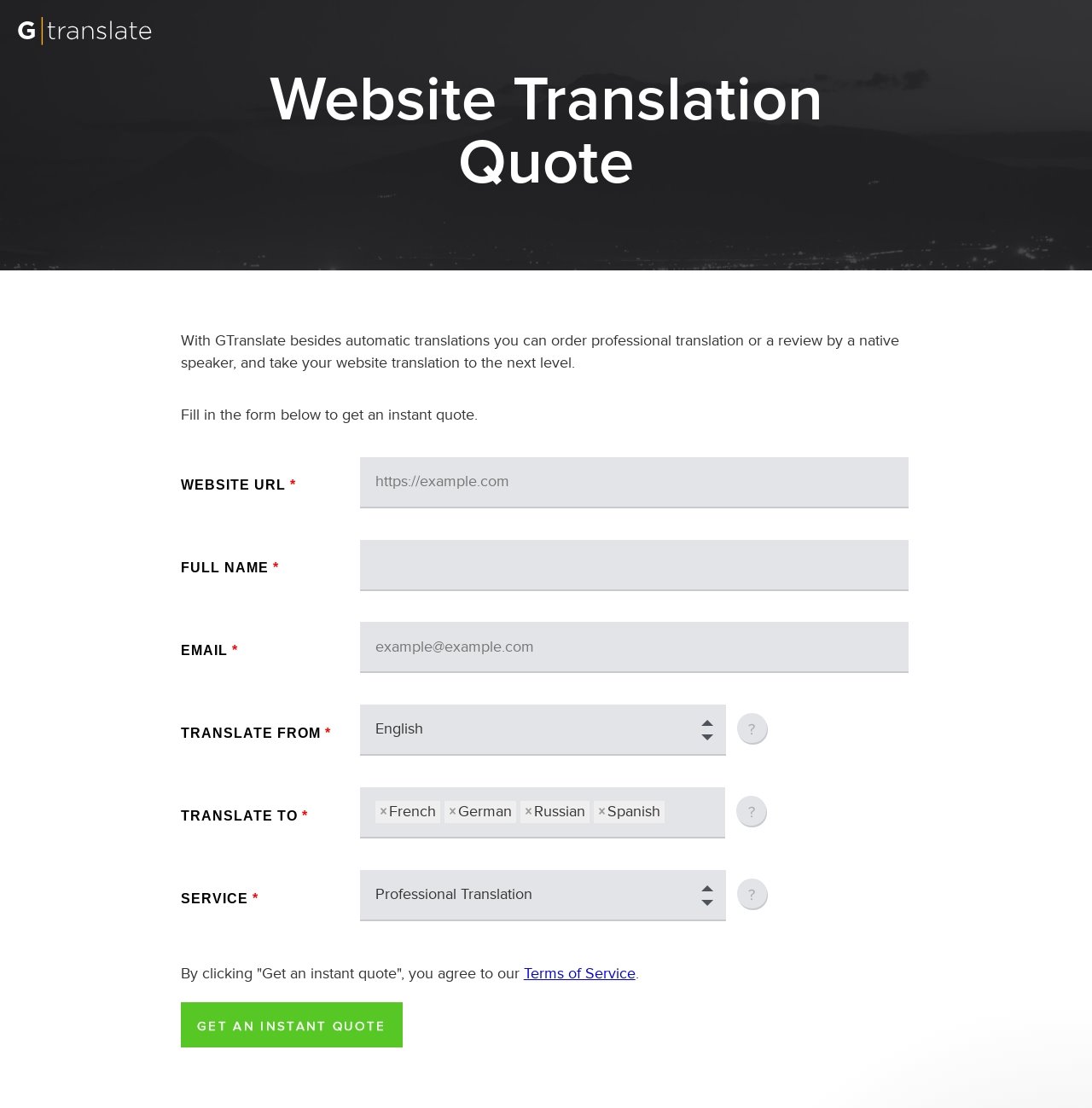 This will take just a few minutes. There are only a few fields to fill in.
If you are not sure what to fill in translate from, translate to, and service fields, we have HELP buttons to assist you. Just click on the buttons or contact our support team.
As already mentioned, with GTranslate Website Translation service you have two options:
professional translation, or
automatic translation + proofreading by a native speaker
With professional translation, you'll have all your mentioned content translated from the original language into the preferred language. With automatic translation+proofreading, we'll provide you with a native speaker who will review your automatically translated content and make corrections.
Both are good to enhance translation quality and better communicate with your international audience.
Note that one professional translator will translate your website content. We do this to ensure consistency across text styles and writing. We don't split your website content into smaller pieces. We will ensure that it flows smoothly and makes your message understandable and easily digestible.
After filling in all the required fields and pressing GET AN INSTANT QUOTE, GTranslate Website Translator will crawl all your pages to find and analyze your original content.
As a result, you'll receive something like this: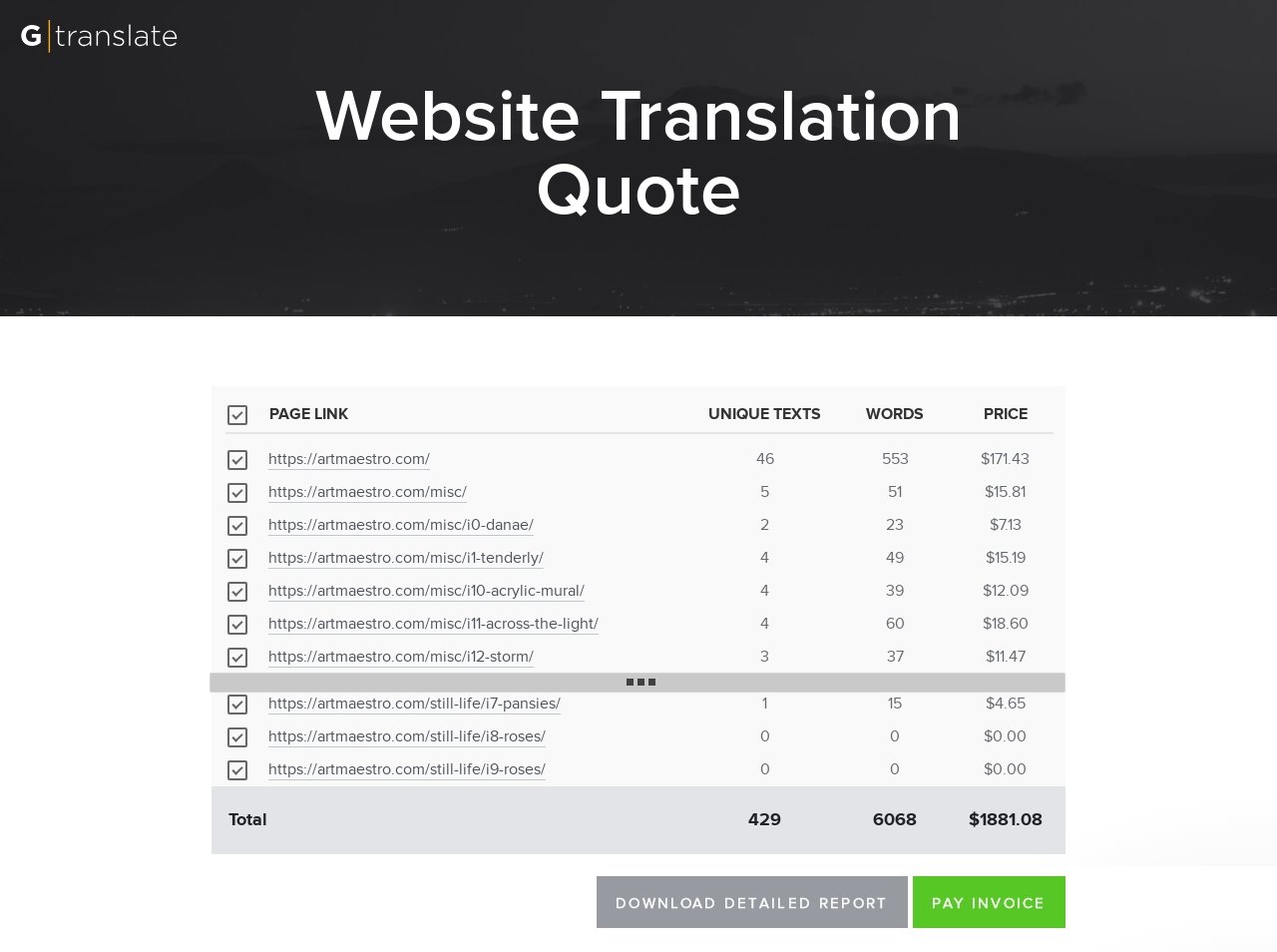 Here you have all the pages GTranslate has crawled and found content in, the number of unique texts per page, the total number of words per page, and the price per page.
As you noticed, we have mentioned UNIQUE text; thus if some text appears in page A and page B, it would be counted once!
Here you can also uncheck all the pages you don't want to cover by this service. And the system will recalculate the quote.
Now you can PAY INVOICE, and we will contact you with exact details of when the task will be accomplished.
You can also DOWNLOAD DETAILED REPORT, where you can see all the unique texts per page and the summary of the quote: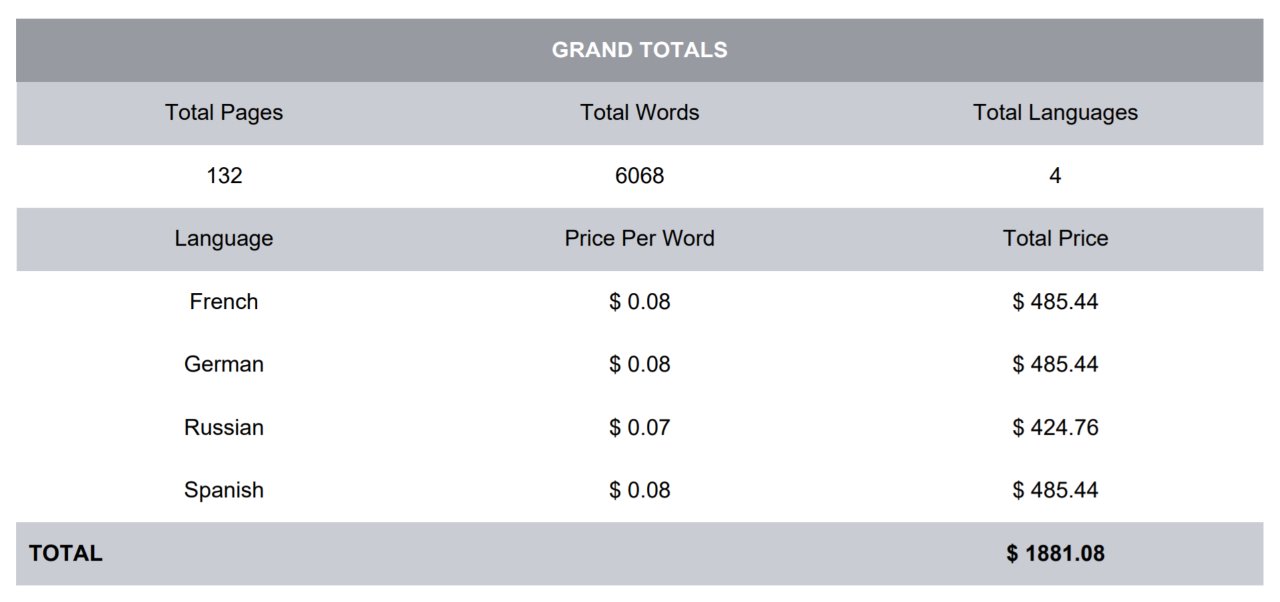 The process of translating from the original language or reviewing and modifying an automatically translated content is organized through GTranslate's In-Context Editor. The In-Context Editor allows you to translate the website content and change the visuals right in the editor. You don't have to copy and paste the text and submit it for translation. You don't have to use any outside tools or platforms to transport your texts. The translation will be done right in front of your eyes. Effortlessly!
Thus, if you opt for the GTranslate main service which is automatic translation of websites, you can also choose between professional translation and proofreading by a native speaker.
Make sure to read our Terms of Professional Website Translation Service and contact us via Live Chat if you have got any questions.
Happy GTranslating!