The main goal of every online store is to drive traffic and boost conversions. On their way of implementing this goal, online vendors have to "face up with" a holistic eCommerce marketing strategy. It's the only true way of understanding how to increase eCommerce sales on Shopify and gain profit.
A sound eCommerce marketing strategy will change the whole picture of your online store. Therefore, we have come up with a list of 13 must-to-try eCommerce tools and marketing tactics.
They will definitely help your business meet its revenue goals. Now let's put them under our microscope one by one and see which one fits your business more.
#1 Integrate Instagram
Currently, Instagram is one of the fast-growing social platforms. It keeps numerous people, brands, and influencers under one roof. As of 2018, it has reached up to 1 billion active users monthly.
The rising importance of Instagram for businesses is undeniable. However, be it a dress, decor or a doll, it's necessary to find out whether it is instagrammable or not.
Its main focus is on aesthetics and photos, making the social platform visually attractive. It's as clear as day that a store selling networking cables has no chances here.
Hence, before jumping up to create an Instagram account, make sure it is workable for your business type. It's recommended that vendors from the following industries tried their luck on this platform: outdoor and sporting goods, food and beverages, home goods, apparel and beauty products.
Check these simple tips to make your Instagram account more compelling, if your business belongs to one of these sectors:
a) Create a business account
With a business account, you will provide more information about your brand. Moreover, you will be able to use an analytics tool to follow your success. For instance, you'll be able to measure engagements per follower, follower growth, post reach and impressions, most engaged hashtags and more. However, you won't be eligible to insert links to your posts. You may add your website link to the description of your business page.
b) Make your photos and videos professional
Professional-looking content is the key factor to engage more followers. Since Instagram is highly visual, it's recommended to post high-quality videos and images. It's a well-known fact that Instagram resizes photos before publishing. To get the best display of your photo on that platform here is a simple guide regarding dimensions desirable to use for your Instagram business page images:
Square photo dimensions (1080 x 1080 pixels)
Portrait photo dimensions (1080 x 1350 pixels)
Landscape photo dimensions (1080 x 607 pixels)
Instagram stories dimensions (1080 x 1920 pixels)
Add your logo to your profile picture if you have any. Stick with your profile picture when you choose one. It helps long-term followers to recognize your brand easily.
Let's take a quick glance at a photo by Tiffany&Co and see how professionals work. With this stunning image of a happy man and a simple description, "@JeffGoldblum is all smiles for what's coming next. January 6th is your last chance to visit Tiffany Men's Pop-Up Shop @ 6 East 57th Street, but stay tuned for what's taking its place." the brand page drives attention both to the brooch on Jeff Goldblum's costume and notifies about the final chance of shopping at Men's Pop-Up Shop.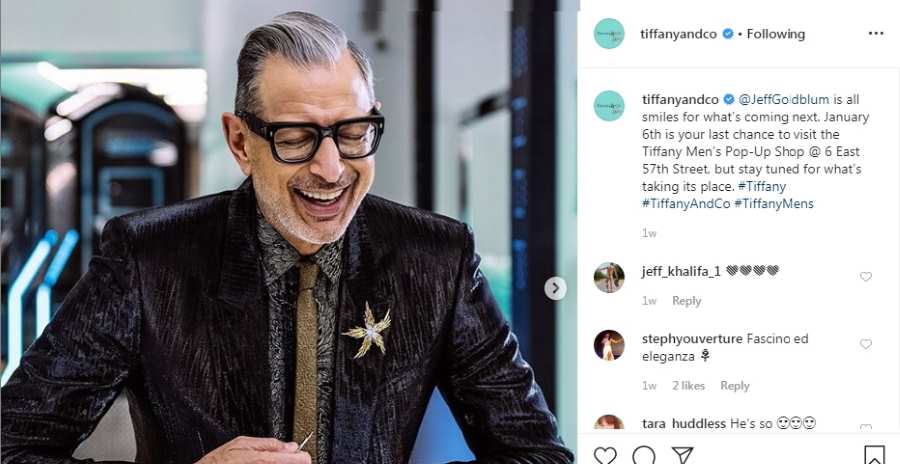 c) Concentrate on storytelling
People follow brands for three reasons: they share great photos, they tell interesting stories and they support an interesting cause. With real-time marketing and a good story, you will engage more people.
They will talk about your brand and your soldier on the chessboard will make one step forward to brand awareness. Here is a good example by Airbnb depicting the happy winner with a short story on what it is about.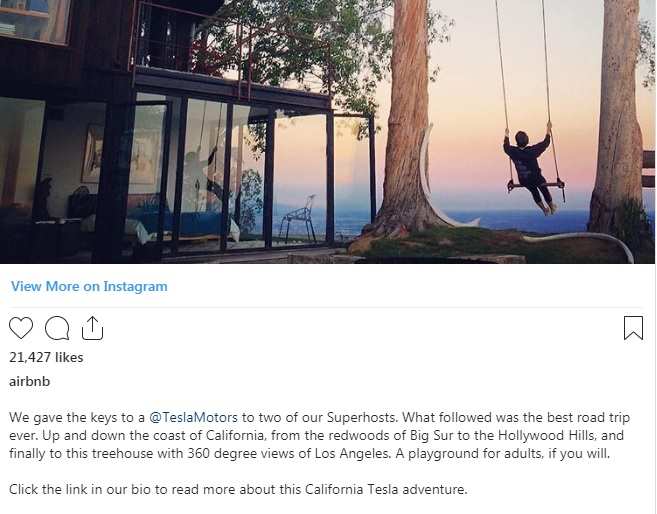 #2 Create compelling Call-to-Actions
You can meet phrases like "Add to Cart", "Shop Now", "Click Here" on almost all product pages of online stores. They are the wheel of any store and are called CTA (Call-to-Action) buttons. They direct the prospects from product pages to landing and checkout ones.
They motivate customers to particular actions. A well-thought and compelling CTA may drive customers to the right place in a conversion funnel. It may sound weird but one of the eCommerce gurus, Amazon has obtained a whopping 13% conversion rate thanks to a well-designed CTA.
Below is a good example of how this eCommerce platform uses to-the-point CTAs for each category.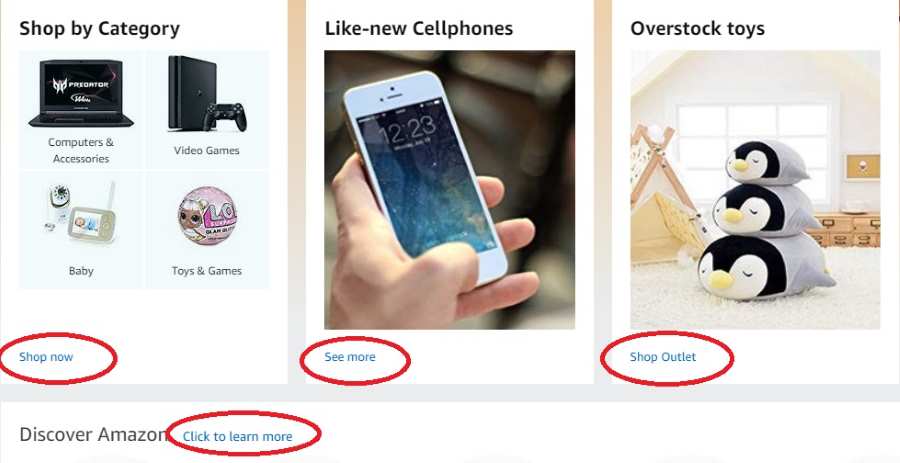 Come and see that the place and color of the CTAs also play a crucial role. It's proven statistically that changing the color of the CTA button (from black to blue) has decreased the number of abandoned carts by 50%.
Moreover, as you may see the majority of online stores place the CTA button above the fold. It's a general truth in online marketing that people don't scroll to see the CTA button if it's placed under the fold. Thus, a compelling and attractive CTA may do most of the job itself.
It's useful to know that businesses can connect a Facebook Catalog to their Instagram Professional Accounts by hosting their products on one of these eCommerce platforms:
Shopify
WooCommerce
Wix
BigCommerce
Magento
Ecwid and more
The other ways to connect your business account to a Facebook catalog are Catalog Manager or Business Manager on Facebook.
One of the best advantages of Facebook Catalogs is that the customers can purchase directly from Instagram.
#3 Provide a personalized eCommerce experience
Ecommerce personalization is about showing customized offers, recommendations and other content based on certain characteristics of your customer (demographics, previous data, etc.)
There is no doubt that personalization is a key factor in your store's success. It's enough to mention that 75% of customers prefer getting personalized messages and offerings.
We all are unique and customized offers tailored to the needs and wants of the buyer will provide a great experience. However, personalization isn't just about suggesting relevant products. It's also about the tone of voice you use when delivering your messages.
Juha Valvanne, Founder of Nosto (eCommerce personalization platform) says:
"Being personal hugely influences the way you communicate products and promotions and how they're received.
In today's connected world, when customers interact with your products, they are also sharing these experiences with others – via a photo, a video, a product review, etc.
This adds a "real-life" element to your product, which can be powerful leverage for a brand."
#4 Make recommendations to visitors through chatbots
Online stores still use live chats to engage users with human-to-human conversations. But technology is offering more sophisticated live chat options today. Have you heard about conversational marketing?
It allows you to set up chatbots on your online store so that a chatbot can have a dialogue with your visitor. You won't hire tens of support specialists to answer visitor queries online. The chatbot will recommend the right products based on the answers to your visitors.
The industries that immediately embraced conversational chatbots are healthcare, food service, news media, financial services, etc. The potential of chatbots is amazingly promising for eCommerce as well.
Therefore, many investors have great faith in these AI friends and can't wait to see the final results. Ecommerce platforms like Shopify use:
Liveperson -

Integrates with Twitter and Facebook.

Generates automatic reports, is optimizable.

The monthly subscription starts at $50.

Free trial is available.

Intercom -

Easy-to-use, is applicable for email campaigns, starts at $38 monthly.

Free trial is available.

IntelliTicks -

It's a hybrid chat platform, complies both AI and human interaction.

Has menu-in-chat and payment-in-chat options.

One month free trial is available.

Starts with $20.

Zendesk -

Provides multichannel support: email, social media, phone, web, chat.

It starts at $14 and provides a one-month free trial.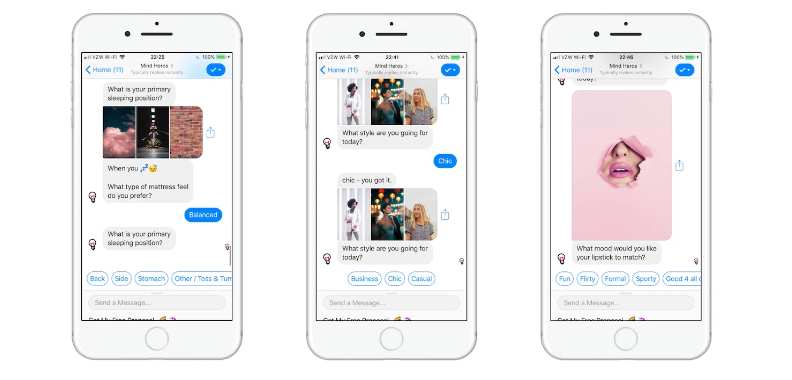 Using conversational chatbots for your online store you will drastically reduce support and customer service costs.
#5 Make your store multilingual
Online stores available in various languages can attract more customers. They embrace the global market more easily. The statistics show that the most popular language on the web is English representing 25.2%.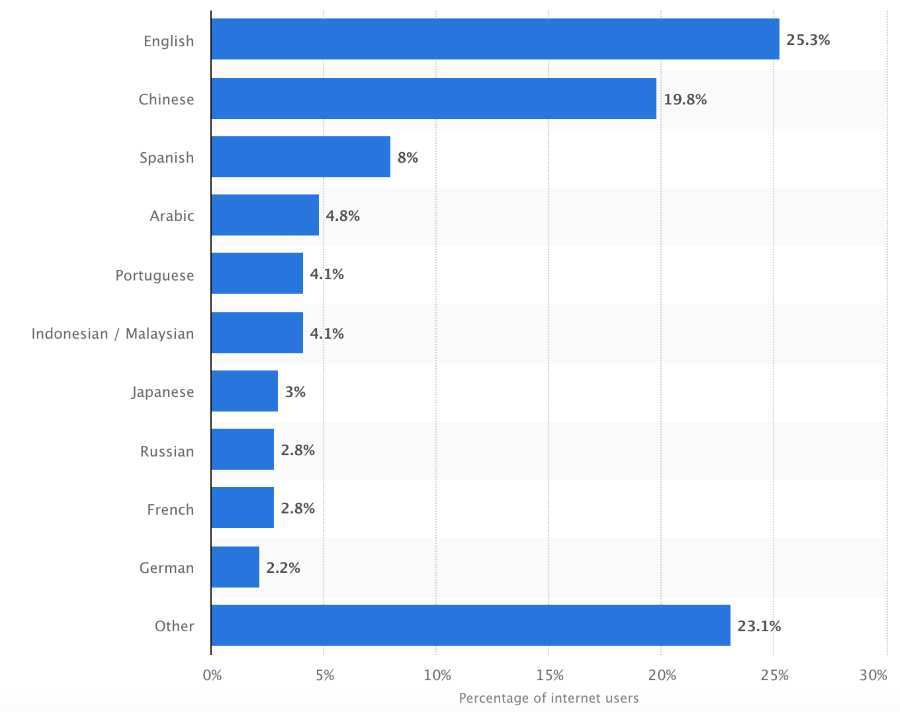 So what about the rest of the people who don't use English on WWW? Translating your online store is a great idea to consider in 2020. Shopify boasts with various apps that will make your store multilingual.
One of them is GTranslate, which is easy-to-use and provides better customer experience due to its helpful features. With its search engine indexing feature people will find your product on search engine results and in their native language.
Moreover, with other features your URLs will be translated into other languages as well. Additionally, you will be able to edit the translation and change whatever you want. In case you run ads on other languages as well, you had better direct visitors to the translated landing pages.

#6 Recover abandoned carts
7 out of 10 customers add products to their basket and never buy them. It's more cost-effective to retarget customers who have added items to their carts and haven't purchased them yet, than to engage new customers.
Furthermore, users coming back after a follow-up message tend to spend more than those who purchase immediately. Thus, remarketing is an effective method to reduce abandoned carts and increase your ROI (Return on Investment).
Two main types of retargeting are via ads and via email. The first one is widely used by online vendors and gives its desired fruits.
The most workable platform for creating targeted ads is Adwords helping you with Google remarketing. Let's start with a little explanation first of all.
Google AdWords remarketing is an online advertising form that enables online vendors to send targeted ads to the owners of abandoned carts.
All you are expected to do is adding a piece of Google remarketing code to your website and your visitors will be added to the remarketing list.
To decrease your Google remarketing costs, you may create different lists of retargeted visitors from product pages or checkout pages. For example, you may display different ads to non-buyers and returning customers.
Email retargeting is in its infancy again. It's used for recovering abandoned carts and proves to be effective. According to the statistics, the number of retailers using email for retargeting purposes has increased in contrast to normal eCommerce conversion rates that fluctuate between 2-4%, email retargeting conversion rate can be as much as 41%.
Using these retargeting methods you may dramatically reduce the number of abandoned carts and improve eCommerce sales on your Shopify store.
#7 Offer Free Shipping
Free shipping is an effective marketing tool if applied properly. We all like receiving things for free and online customers are not an exception. Moreover, the statistics show that the primary reason for abandoning their carts is the extra shipping costs.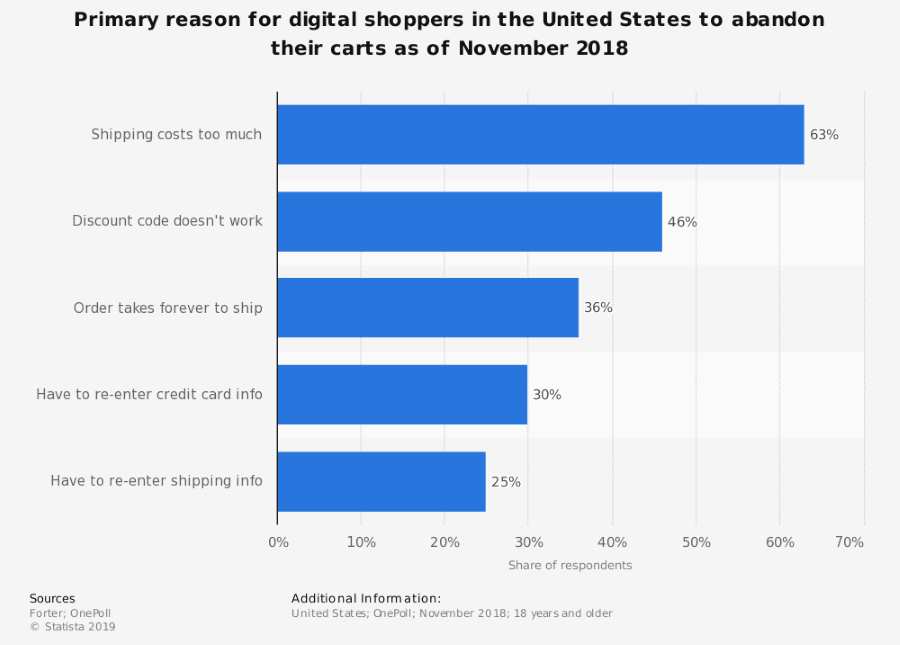 Thus, the free shipping option can be beneficial for both the digital shopper and the retailer as well. It can be offered in conjunction with other delivery options. Online buyers can be offered free shipping if:
They make a purchase over a specific amount (customers will add more items to their cart to be eligible for free shipping).
Buy two or more items (use up-selling to get revenue and to meet the goal of the customer).
Place an order during a specific time period (a slow shopping period when the sales rates decrease).
#8 Use SEO tactics to go viral
One of the major differences between online stores and brick and mortar ones is SEO. There is no online shopping without SEO. You may have an awesome store out there suggesting wonderful products.
But what is the benefit if no one knows about it. That's where you will need an SEO strategy to acquire brand awareness and learn how to boost eCommerce sales on Shopify.
First of all, you may hire a freelance SEO specialist to run your website SEO. But, before doing that you should be aware of what is it about. To rank higher on Google you should take these best eCommerce SEO strategy tips in mind:
On-page SEO -

On-page SEO complies all the tactics you can use within your website (keywords, meta description, title tags, alt tags, HTML code, SSL/HTTPs are the foundation of on-page SEO)

Off-page SEO -

If on-page SEO is about all that you can do on your website, off-page SEO refers to all that occurs off your website.

It's mainly about backlinks and D/A (domain authority).

Technical SEO -

This is used to make sure that search engines will crawl your site competently.

Furthermore, it's used for making your website mobile-friendly, eliminating not-found pages, increasing page speed, dealing with redirecting.
Of course, that wasn't all about SEO and its tactics. If you would like to learn how to increase sales on eCommerce with SEO, check out this article.
#9 Write compelling product descriptions
The first thing after the visitor opens your product page is reading the product description. It should present value for the visitor and sound trustworthy.
Avoid the widespread mistake of using vague statements like "it's the best", "it's of high quality", "it's just great" and more. In this article, you will learn more about how to write proper product descriptions that sell.
When writing a product description remember for whom you are writing. Use a friendly tone of voice. Know where to use short and long descriptions. Handle the objections of your customers visiting other stores by reading the reviews they left.
Cover the suspicions and doubts of other customers in your product description and minimize the objections of your customers.
In the example below, you can see how Amazon describes the iWatch in a detailed manner. They thoroughly explain every specialty of the product leaving no space for doubt or hesitation.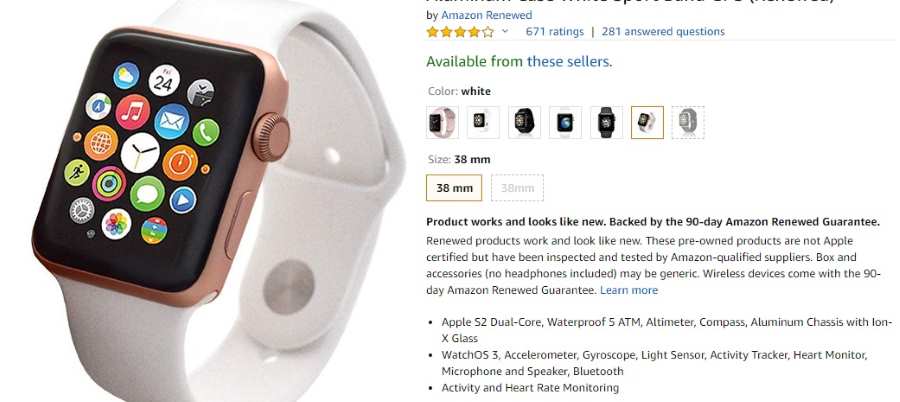 #10 Add customer reviews to your online store
Product reviews are one of the most crucial things customers pay attention to when buying. They reinforce the visitor's trust in your brand. Turning on the product review feature, you will receive more benefits than harm. Even constructive criticism and advice will help you make your online store a better place for shopping.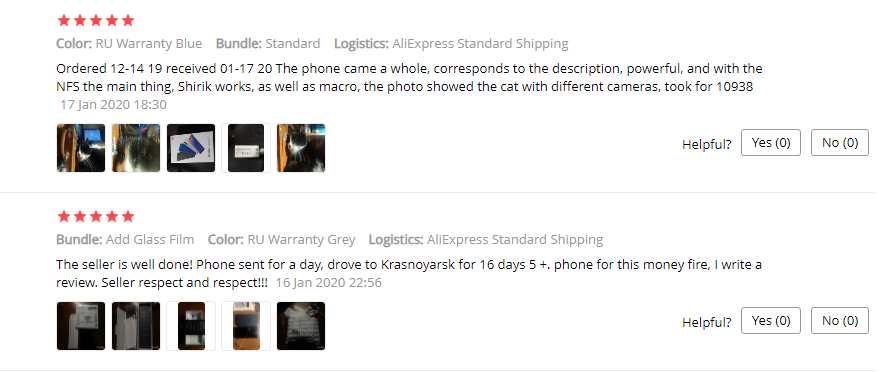 Reading these kinds of reviews people are more likely to buy the product than reading long descriptions of how useful and superb product it is.
#11 Use (e)gift cards to attract more customers
Consumers love gift cards and their necessity increases, especially during holidays. Customers buy gifts for themselves and their loved ones. But sometimes they don't know what gift to choose and prefer to present a gift card rather than the product itself.
Thus, gift cards are a powerful marketing tool for vendors who wonder how to increase Shopify sales during holidays. In the picture below you may find just a small amount of Shopify apps suggesting gift card solutions to your online store.
One of the widely used apps suggesting (e)gift cards is Giftee.com. It suggests numerous types of gift cards to various businesses. The good news about Giftee is that it suggests a free plan with limitations (10 recipient emails per month). Whereas, the pricing for the Basic plan (50 recipient emails/month) starts with $4,99.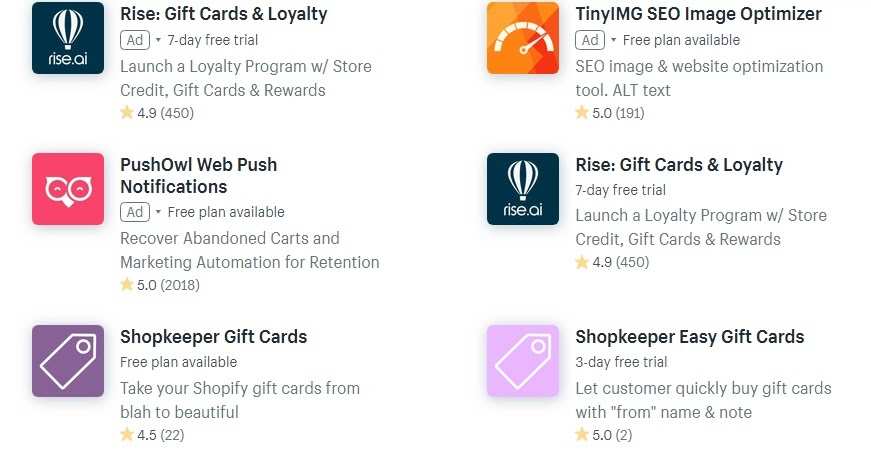 #12 Use Facebook ads
With over 2.2 billion active users daily Facebook is a great platform for your product ads. However, not all businesses register success using Facebook ads. What's the reason and how they may fix it?
It's calculated that over 97% of B2C companies use social media, particularly Facebook. It means, almost everyone uses Facebook for their business marketing. And it means Facebook content marketing is useful.
However, 50% of small businesses state they aren't getting enough ROI through Facebook ads. Christina Hager, head of social media strategy and distribution, at Overflow Storytelling Lab says:
"You can't just throw things onto Facebook and hope someone sees them.
You need to post with intention and then decide what you are going to do with that post".
Thus, Facebook ads should be used for a specific audience. Below are a few simple tips for your Facebook ads campaign:
Post with intent
Narrow your audience
Create a community page
Don't post without a content calendar
Use boosted posts to optimize sales
Regularly post to your Facebook story
Facebook ads are a theme for long research, which we won't do right now. However, we can state that the businesses that go well with Facebook ads include: retail and eCommerce, entertainment and media, technology, gaming, food and beverages, financial services, etc.
The best practice of a Facebook ads is presented by Blink for Home. They made Facebook a part of their paid marketing strategy and now enjoy the fruits. Blink not only returned previous visitors and reduced abandoned carts, but also proved Facebook to be an impactful eCommerce channel.
With an increase of 81.44% CTR (click-through-rate) and a 13.11% increase in sales, it showed the benefits of Dynamic ads.

Any marketer will agree that all businesses can be successful if you use Facebook smartly and use its potential to the fullest extent.
#13 Use pop-ups… without annoying
Another powerful, yet underestimated marketing tool for eCommerce are pop-ups. They can be helpful in many ways. They can help in generating email subscribers, increasing sales and more.
Mostly exit pop-ups work best.
With all the negative attention about being obtrusive, pop-ups continue doing their job,i.e. generating leads, boosting sales, enlarging email listings.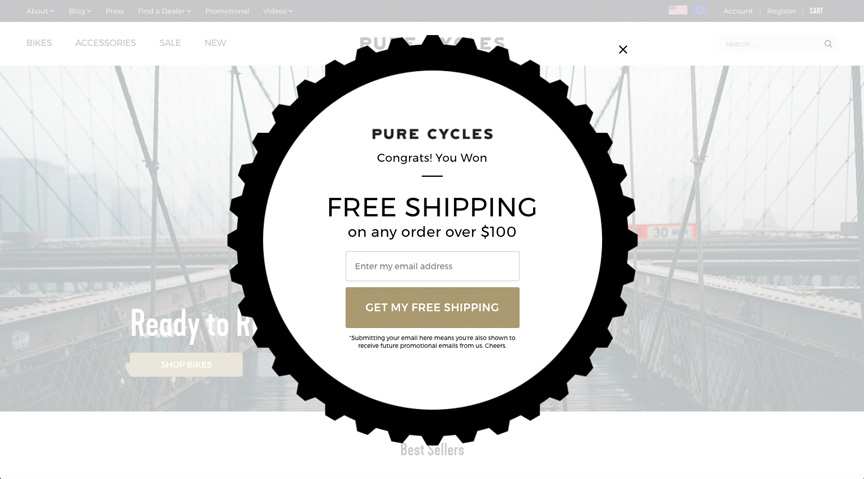 A well-thought pop-up like you see in the image above, may do more than any ad campaign. With a simple suggestion of free shipping or a discount coupon, you may keep visitors longer on your website with a chance of placing an order. Here are several Shopify pop-up apps that will make your online store perform better:
Privy - provides with numerous free features in its Basic plan (starts with $24 monthly for advanced features)
Pop-Up Window - boasts with drag-and-drop feature (starts with $5.95 monthly (with 7 days free trial)
Email Pirate - provides a Smart user targeting feature that enables the user to display targeted messaging to a specific page (starts with $4.99, 7-day free trial available)
Key takeaways
There you have it, 13 tips on how to increase eCommerce sales on Shopify with these simple, yet powerful tips.
Using social media platforms like Facebook and Instagram will enlarge the circle of your potential buyers.
Adding a personalized shopping experience and free shipping will guarantee customer satisfaction.
Added to all these, by having SEO-friendly online stores with trustworthy customer reviews and smart product descriptions you will become a game-changer in your industry.
Share your thoughts with us and leave a comment below!