Landing page optimization doesn't give instant results. It takes time and patience to work. Maybe that's why a lot of business people and marketers just give up.
Should you give up too?
No way!
A great landing page requires that you know everything about your customers or users. Well, if not everything, then at least the most important things. That's why before you get started with designing the landing page, make sure you know more details about your target audience or the so-called buyer persona.
This knowledge will help you choose among the various landing page optimization tactics out there and be more accurate when implementing them.
Let's see what tactics you can choose from.
Simple design doesn't mean poor design
Too much text and a lot of visuals can kill your core message. So, when selecting a design template for your landing page, better opt for something simple and minimalistic.
Getting rid of the visual clutter will help your website visitors focus on your call-to-action. This way you can say more without having to show more.
Hotjar's landing page is a great example here that is simple, beautifully designed, conveys the message to the visitors and makes them convert using a straightforward call-to-action button.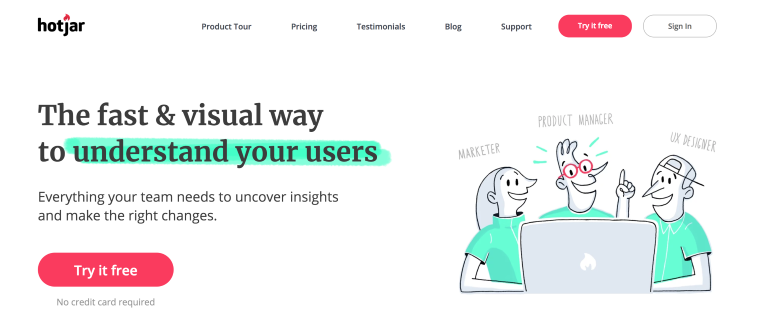 Your landing page can contain these elements:
Logo
A simple visual
Title or tagline
A brief description of your product or service
Call-to-action button
As simple as this!
Important ideas should come first
Let's take Renderforest's example. It's an online animation maker that helps create explainer and animated videos with the help of predefined templates. One of the landing pages simply starts with the description of what animated videos are and why you need them. Pretty straightforward, right?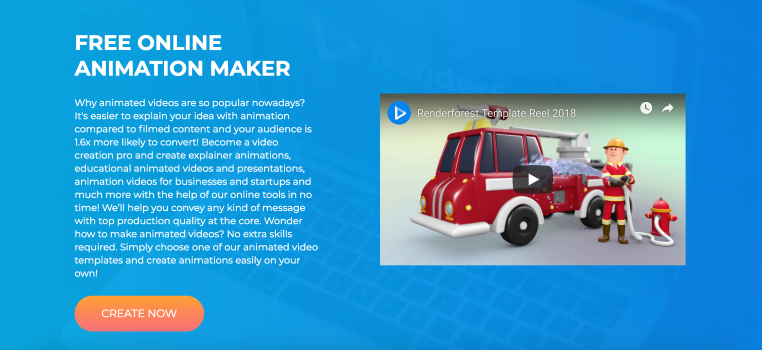 Usually, people beat around the bush and then they beat around the bush again until the reader gets bored and bounces out from a website. You don't want to experience a scenario like this, do you? That's why it is better to keep the important message you want to share with your landing page visitors above the fold.
In other words, make everything clear right at the very beginning.
Don't waste time.
People value their time more than money these days. So, you don't want to waste it, right?
Keeping the important parts above the fold also implies that your landing page content should not take too much time to digest. So, don't make it something that the visitors should scroll endlessly. They are going to hate that!
Scarcity creates a feeling of urgency
If you are an e-commerce store and you want to sell something with a huge discount, then a landing page is the right idea for you.
Scarcity is a great landing page optimization tactic that a lot of marketers leave unnoticed.
So, don't be afraid to say things like "24 hours left" or "sale ends in 5 days". Scarcity encourages people to act fast and press that CTA button.
For example, Forever 21 online shop uses a timer on the top of their website that announces 50% sale only for that one single day. So the visitors will hurry to purchase the items they desire as soon as possible, as the sale will end the next day.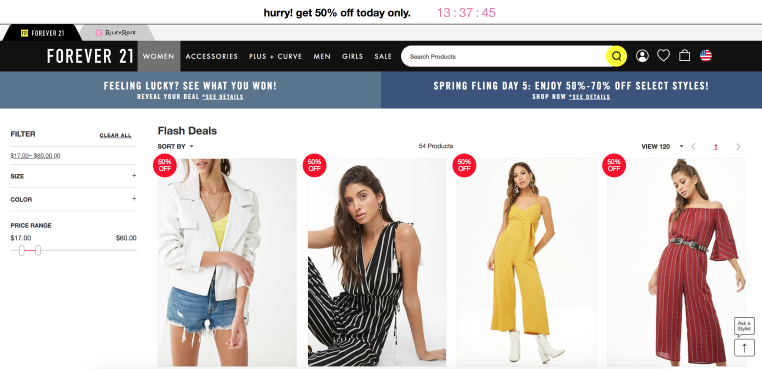 A countdown timer can also work wonders! And it won't be too hard to implement from the design and development perspective either.
That CTA button is essential
The best CTA buttons have simple texts on them and are very straightforward. So, make sure to avoid complicated wording. A few great CTA button text examples are the following:
Download now
Join now
Get a free trial
Join for free
Start a free trial
Enter to win
Get your free eBook (or whatever it is)
Try for free
Try now
Purchase now
Subscribe now
Submit now
Get started
Obviously, these CTA buttons also contain that scarcity element like in "Join now". And it's fine as long as you don't overuse "now" or similar words. Cause you don't want to sound spammy.
Translating a landing page can work wonders
To understand this one, let's break it down first. Why do you want a separate landing page? Because you might be thinking about launching a campaign. Let's imagine you are going to start a social media campaign in/for different countries to direct the targeted audience to your landing page/website.
Since people engage more with their native-language content, you might be thinking of creating ad copies in different languages to fit their culture and language context. That's a great idea indeed. And you don't want these people to click on the ad and appear in a completely different environment. So, if they appear in their native context, then you have got big chances to win their heart.
Amazon nailed the localization game for the US and the Netherlands markets (pay attention to the visuals).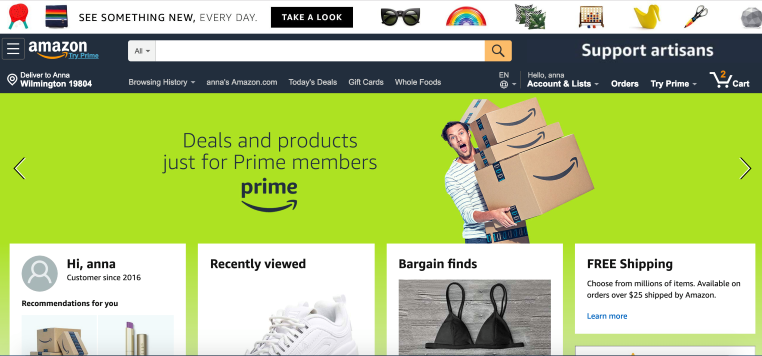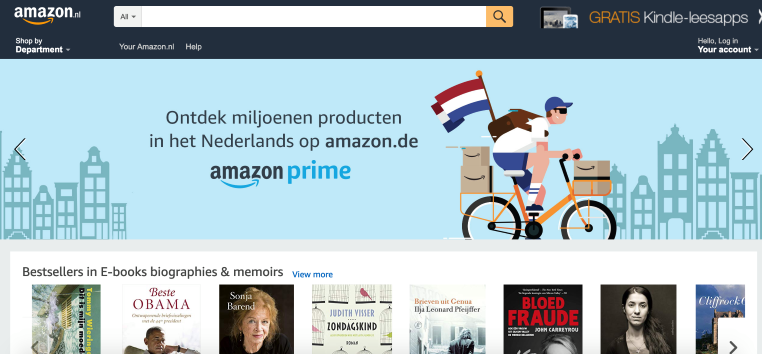 Translating a website can sometimes be a tough task especially if you try to do it manually.
Instead, you can try GTranslate which is really easy to set up and use. It will not only instantly make your website multilingual but also provide you with the chance to localize the content, e.g. change the visuals to fit a particular context (country and culture-specific). The In-Context Editor is there to help make any edits on the site within minutes and without much efforts.
SEO is the new trendy. GTranslate will allow you to optimize your website for local SEO by translating the metadata, the keywords and by providing you with country-specific domains.
Also, one of the advantages of GTranslate are the dedicated support and development teams that are ready to configure GTranslate for you and help resolve any technical issues for free. With GTranslate, you also get no limits translated words and pageviews and you also get a multifunctional user dashboard where you can measure and track your efforts.
Testimonials are social proof
Never underestimate the power of a good testimonial. People still buy things based on word of mouth even if they don't actually know the person making the referral. So, make sure to find a few really well-written testimonials and use them in your landing page.

Source: Instapage
Like in the example above, ideally, testimonials should include the customer's or client's full name, company and position, and a headshot. If the person giving the testimonial is the CEO of a company or some other C-level guy or girl, then the testimonial will look way better. Yes, stuff like this really works for a lot of businesses!
Forget everything: Do A/B testing
Everything you read above is key but A/B testing your efforts is much more important for landing page optimization. Thus, make sure to find a tool that will help you compare your landing page versions and see which one works better. Also, note that the number one rule for A/B testing is to test one thing at a time. For example, changing the color and the text on the CTA buttons simultaneously won't work. This basically implies making only one change, then testing it, and then changing something else and then testing again. Make sure to iterate and measure as you make these changes. Keep it small and focus on the details.
Wrap up
There are many tactics when it comes to landing page optimization starting from translating your website or better localizing it to fit the audience's cultural context and ending with adding testimonials or performing A/B testing.
Once you answer the question "Who am I doing this for?" you will know where to start.
Happy optimizing!