Squarespace is a website builder that you can use to create any website you want starting from a simple "landing page" type of websites and ending with eCommerce stores. You can find thousands of website templates on Squarespace, anything you need, and everything your customers would be excited to see.
Along with website templates, Squarespace also provides a set of useful marketing tools that you can use in order to engage with your audience, get found organically, and grow your following. Some of those tools are the Email campaign tool, the SEO tool, the different social integration opportunities, Squarespace Analytics, a bunch of customer engagement tools such as forms and survey tools, calendar and much more.
Most importantly, Squarespace provides its customers with award-winning expert customer care. As a Squarespace user, you can get personalized support from the Customer Care Team either via email or live chat. And you know what? These people are there for you, 24/7!
So, with all of this in mind, it's natural to want to build your website with Squarespace. The setup is pretty simple, and you have the 24/7 support covering your back. That's why we will not dive into the technical stuff too much. Instead, let's find out how you can optimize your Squarespace website to get more traffic and eventually more sales.
Reduce the page loading time
Squarespace has a number of features that help ensure fast page loading time. However, the type of content you use on your website will impact how quickly it loads the most. For example, if your page contains a lot of HD images, then those can slow it down. This will happen especially on mobile devices and slower internet connections.
That's why it's recommended to keep a page under 5 MB. Squarespace has got a separate support article about how you can check your page content size.
Add your physical location
If your business has got a physical location, then it's a good idea to list it online so that people can easily find you in location-based services. A location can be added in a number of places on your Squarespace website. For example, you can add a map on your Contact us page indicating where people can find you and also have a contact form below the map. That's a great strategy that a lot of businesses use. Let's just see a few examples below: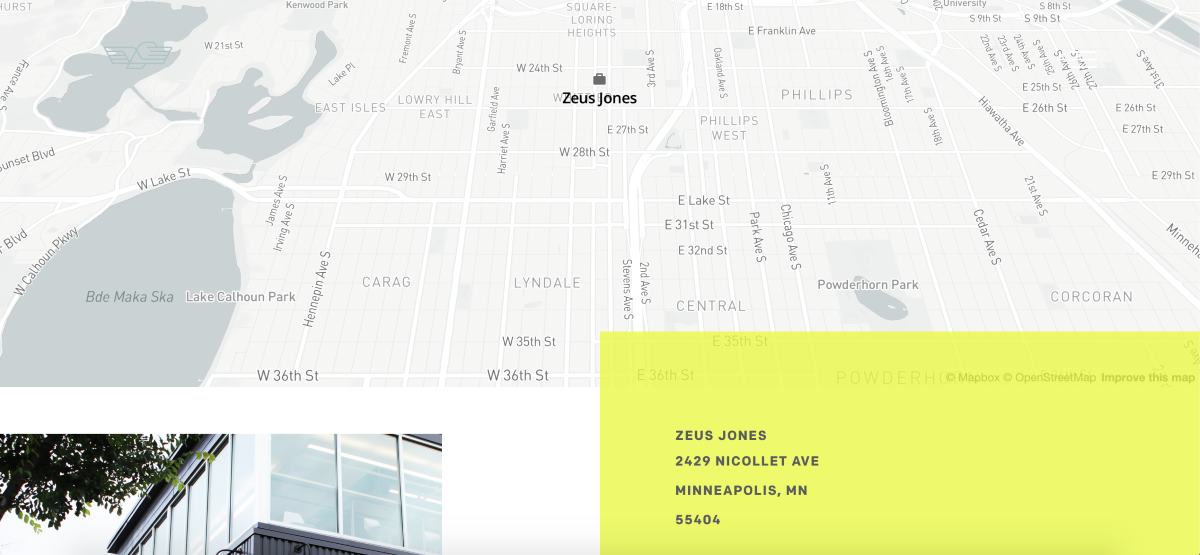 A marketing agency that has got a nice interactive map along with the contact information on the Contact us page. Source: https://zeusjones.com/contact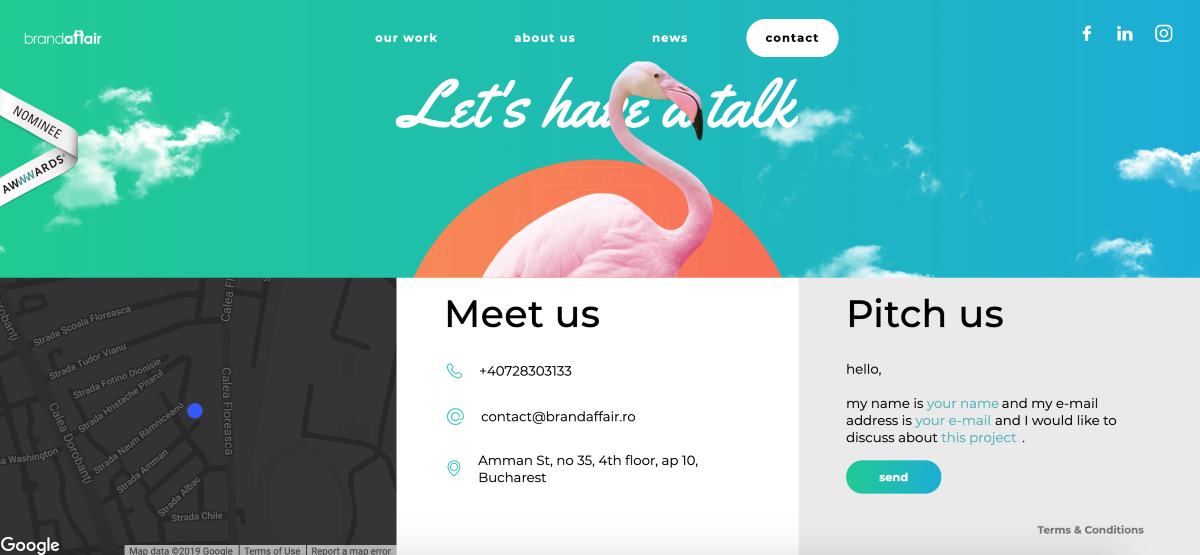 A vision agency experimenting with bright colors and a creative Contact page. Source: https://brandaffair.ro/contact
These websites are not necessarily built with Squarespace. However, you also can build a creative website using Squarespace templates.
Translate and/or localize your website
If you are an international brand or a startup, then you might want to reach more audiences. And it would be key for you to have your website translated. There are various translation services. However, they are usually costly and can take too long to implement.
But there is good news too. You can use GTranslate, which is a tool that can be easily integrated with your Squarespace website. GTranslate will automatically translate ALL the pages on your website without putting any limitations based on the word count. You will also be able to not only translate but also localize your website content based on your target audience's specific needs. The In-context Editor will help you localize not only texts but also images, files, and URLs on your Squarespace website.

GTranslate will provide you with the following perks:
Search engine indexing for the translated pages
Separate URLs for each translated page
Translation editing (anywhere, anytime)
Translation statistics can be found on your user dashboard
A separate domain for each language aka language hosting
URL translation
No special attention is needed for the updates since they are all maintained by us
This is not yet the full list of perks that GTranslate will provide you with. Should you want to have your website fully localized for a number of audiences, you can request to get one of our most awesome services - proofreading by a native speaker and translation by a certified translator.
Add page meta information
There are a few places on a website where you need to add your meta information. This is the same for both Squarespace and non-Squarespace websites. A page usually has a title, a description, a URL, content, visuals, links to other pages. These are the main elements on a web page. And this means that they all need to be properly optimized.
Your title should contain your primary keyword. The same refers to the meta description and the page URL. All of your images have got an alt text attribute which again should contain the keyword. There are search engines that fail to process the visuals properly which means that if you fail to add a description to your image, it might not be indexed by a number of search engines which would be disastrous for your SEO.
Your web page content also needs to be optimized. Content optimization is a key part of overall website optimization. Make sure to create engaging and useful content that will describe your product or service in a very comprehensive manner.
One of the worst mistakes some marketers or business owners make is that they make the content too fancy which literally results in the audience leaving the website because of not knowing what to expect from the brand/service-provider. So, while neatly-written and beautiful content is essential, it's more important to deliver your message in a clear and concise manner which is not an easy task in itself.
The technical stuff is important but your message is what will eventually convince a website visitor to turn into a lead and then into a buyer/customer/user.
Summing up
Squarespace website optimization has got nearly the same principles as optimizing other websites built through Wordpress or other site builders. However, while the principles are almost the same, the execution will differ. But this doesn't mean that you will have a hard time integrating tools like GTranslate or optimizing your content. Both Squarespace and GTranslate have got super-proactive and excellent customer support teams and a great knowledge base. Whenever you feel you cannot figure out the setup or configuration, make sure to start a chat with one of the support team members.
Don't worry! Cause you are going to have the best website ever.