If you are into eCommerce business, there's a big chance you own a Shopify Store, or at least you have heard of Shopify.
Shopify is the 3rd largest eCommerce platform with more than 800.000 stores in 175 countries across the world. As of 2018, Shopify's paying customers grew 55% from the previous year, and it made over $1.5 billion in sales during 2018 Black Friday, amounting to 10,978 orders/minute.
So why is Shopify so popular among the eCommerce folks? The answer is it's a complete, one-stop eCommerce platform, and it's super easy to use. Shopify gives the chance to start, grow, and manage a business both online and/or offline through Shopify POS.
If you don't like fast commitments, you can start with a 14-day free trial of Shopify to create your online store and test things out. The basic plan for Shopify store owners is $29/month, and you can upgrade anytime.
Creating/owning a Shopify store is a significant step ahead, but it's just the first step in the long-run race of creating an income-generating eCommerce platform. The main goal here is to create a store with a continuously increasing rate of conversions. The 4-step guide below is here to help. Use this guide to set a Shopify conversion benchmark for your Shopify store and achieve it like a pro.
#1 Shopify SEO Everyone Can Do
According to MOZ, SEO (short for "Search Engine Optimization") is the practice of increasing the quantity and quality of traffic to your website through organic search engine results. Easier said SEO helps you rank on the first page of search results for your relevant keywords. The better you rank, the more qualified organic traffic you'll have, and the higher your Shopify conversion rate will be.
While SEO can get really technical and complicated, there is a part of it called "On-Site SEO" EVERYONE, even the least technical person (let's say my linguist mom) can do.
Start by creating an initial list of keywords (10-20 keywords) you want to rank for. Let's assume you sell vintage sunglasses on your Shopify store; some of your focus keywords are:
Vintage Sunglasses Online
Retro Sunglasses
Cat-Eye Vintage Sunglasses
Use your focus keyword in free keyword-generating tools like "Keywords Planner", "Ubersuggest", or simple Google Search Autocomplete to come up with a short keyword list. Now take these keywords and integrate them into your website content: product titles, descriptions, page headings, & metadata. While the first items mentioned are most probably familiar to you, metadata might sound relatively technical (though it isn't).
Each search engine result has a meta title and meta description just like in the capture below. The meta title is displayed on your browser tab and tells you what page you're on. Meta description is a short snippet summarizing a page's content. The example below is a search result for the "vintage sunglasses" query. You can see that the meta title & description for this example are optimized for the keyword.

To add meta titles/descriptions of your main pages on Shopify:
Go to Shopify admin → Online Store → Preferences.

Create meta title & description following the below-mentioned practices:

Meta Title should have a limit of 55-60 characters.

It should contain the focus keyword of the page and preferably a minor keyword of choice.




See the example from the screenshot above.

The meta title is optimized for the focus keyword: "vintage & retro sunglasses" and includes adjectives for sunglasses e.g. "square" as a minor keyword.

Meta Description should have a limit of 155-160 characters.

It should contain your focus keyword and 2-3 minor keywords of choice.

Meta Description should be compelling and act as a CTA for your potential customers.




Again, from the example above, the meta description is optimized for the main keyword: "vintage & retro sunglasses" and includes minor keyword "mens & womens sunglasses" as well.
Please note, that both meta title & description discussed exceed the recommended limit of characters, which is not a good practice.
#2 Shopify App Integration
When it comes to apps, Shopify has a lot to offer. Integrating the relevant apps on your Shopify store can significantly improve the in-store experience. Go primarily with the apps that help you emphasize your USP (Unique Selling Proposition) and winning offers. Below we present a few cool apps for Shopify:
1. Free Shipping Shopify Apps
In case you offer free shipping, you should make it maximum observable. Use Shopify apps that allow you to display your free shipping offers in slide-out and customizable bars. An example is Free Shipping Bar that works with advanced targeting and will enable you to create specific offers for different geo-locations with auto-detection for currency settings.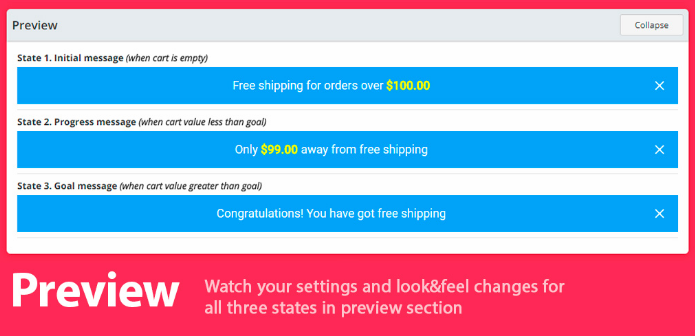 2. Retargeting Shopify Apps
According to a 2016 study, around ¾ of all shopping carts get abandoned, and this is one of the biggest issues that eCommerce merchants face. An app called PushOwl helps with this problem. It offers Shopify store owners an opportunity for retargeting. First, let's clarify what's retargeting: retargeting is the tactic of serving targeted ads to people who have already visited or taken action on your website.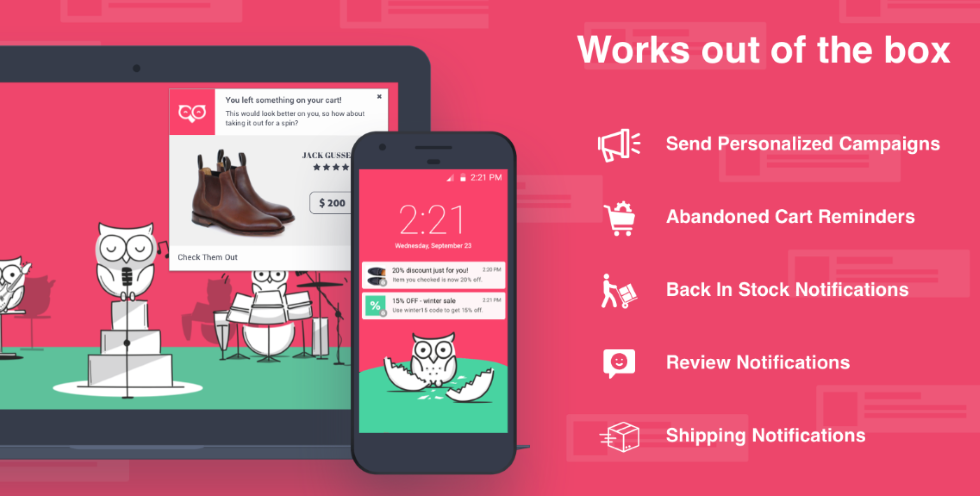 PushOwl's abandoned cart reminders provide you a set of 3 automated push notifications to retarget the accounts with abandoned carts and recover orders.
Another free app for Shopify retargeting is Shopify FREE Traffic and Ads App by Sixads.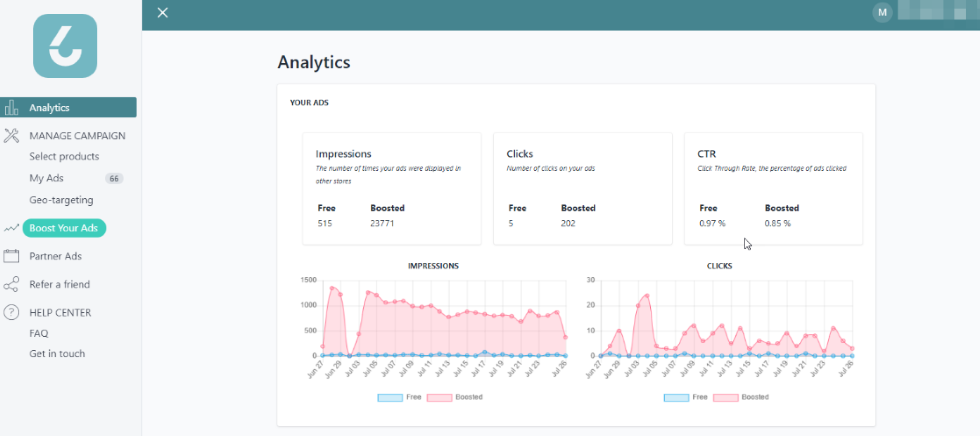 3. Size Chart Shopify Apps
If you're into clothing retail, you already know that the problems and inconsistencies with product sizing are a major reason for product returns. To minimize the percentage of returns, and increase customer satisfaction, integrate size chart apps in your Shopify store. These apps will provide your customers with size guides and recommendations based on international standards or adaptable metrics. Some high-rates size apps on Shopify are Kiwi Size Chart & Recommender and Size Matters.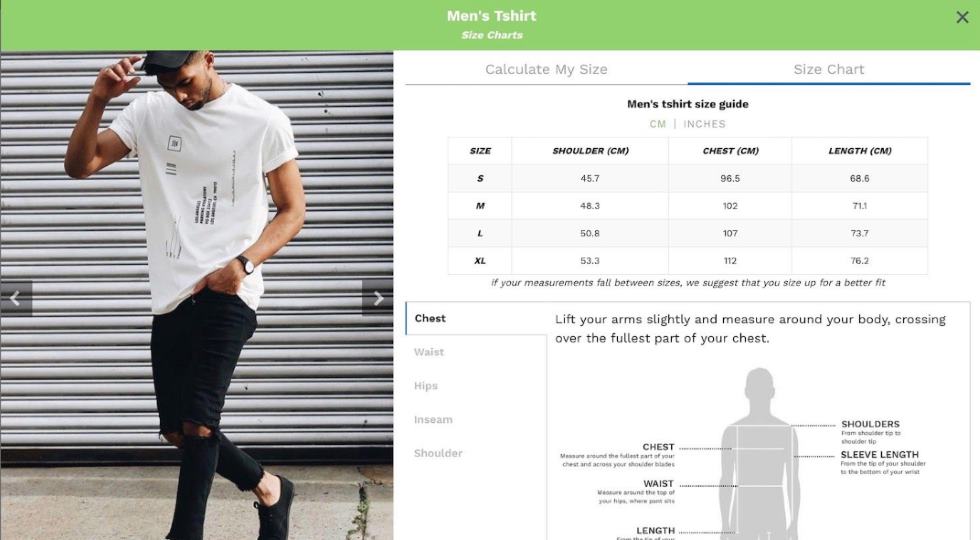 4. Shopify Customer Review Apps
72% of customers won't take action until they read reviews. Moreover, online reviews have no impact whatsoever on only 2% of consumers. Taking into consideration the fact that customer reviews basically "shape" the future of online shopping, integrating a review app in your Shopify store is a non-debatable must. There are many apps on Shopify (both paid & free) that allow you to integrate customer review feature in your store seamlessly. Product Reviews (free) and Rivyo Product Review (free plan available) are just two examples.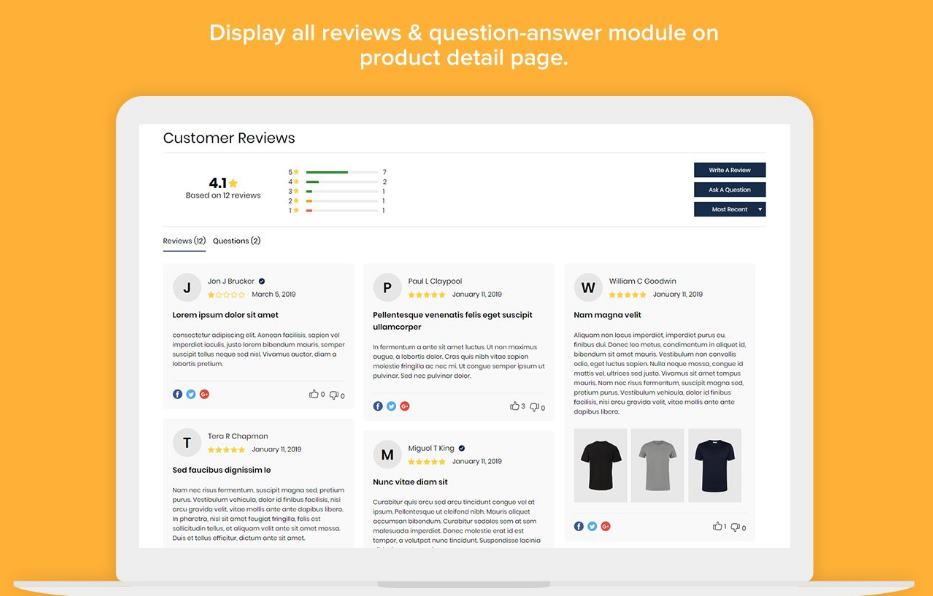 5. Referral Shopify App
As the trust for mass media advertising diminishes day by day, referral marketing, the practice of promoting products or services to new customers through current customers, gets stronger.
Just a few quick referral marketing facts to blow your mind:
92% of consumers trust referrals from people they know.
Referral Marketing generates 3-5x higher conversion rates than any other channel.
Referred customers bring you a 25% higher profit margin.
A referred customer is 18% more loyal than a customer acquired by other means.
Referred customers are four times more likely to refer more customers to your brand.
Who wants to miss a chance like this one? Well, no one! To leverage the full power of Referral Marketing, think about integrating referral marketing apps like Swell Loyalty & Rewards.
With Swell, you can reward your customers for over 15 unique actions, including:
Referring friends to your store
Making More Purchases with Your Business (Make X Purchases, Get $Y)
Writing reviews, etc.
Another successful referral Shopify app is Bamboo. With Bamboo, you can create a referral program to reward customers who invite their friends to shop.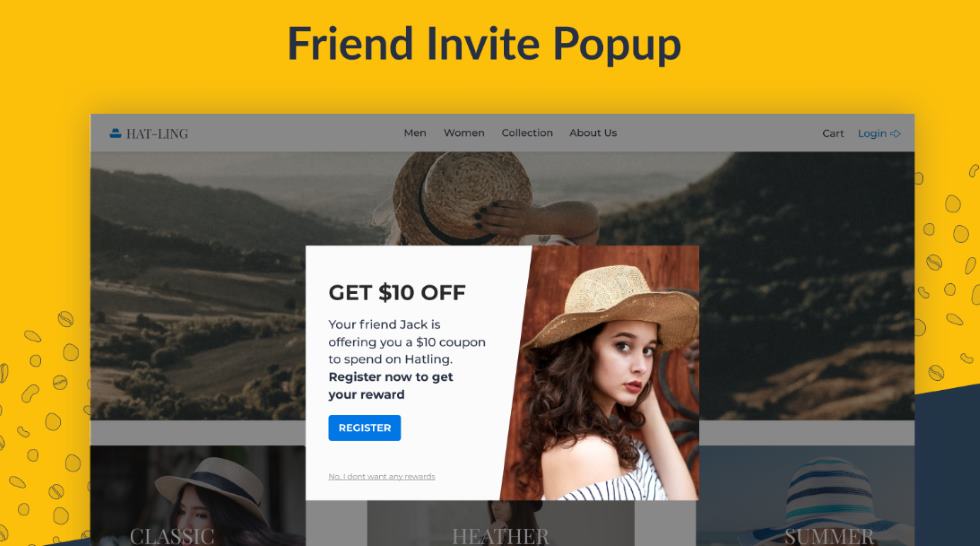 #3 Product Landing Page Optimization
Optimizing the content on the product page is a crucial step towards maximal Shopify conversion. Using focus keywords in product titles & descriptions is the first step in the checklist.
The landing page heading should be short & keyword targeted. The preferable word limit is 3-10. The landing page subheading should be more explanatory and persuasive.The recommended word limit is 10-30.
CTA (Call-to-Action) is the most integral part of a landing page. It's important to know that each landing page should have only ONE CTA - carefully processed offer. Design-wise, the CTA color should contrast with the rest of the color scheme of the page for maximal exposure.
The screenshot below is a great example of the tip: "Try it Free" CTA is dramatically emphasized through the choice of color.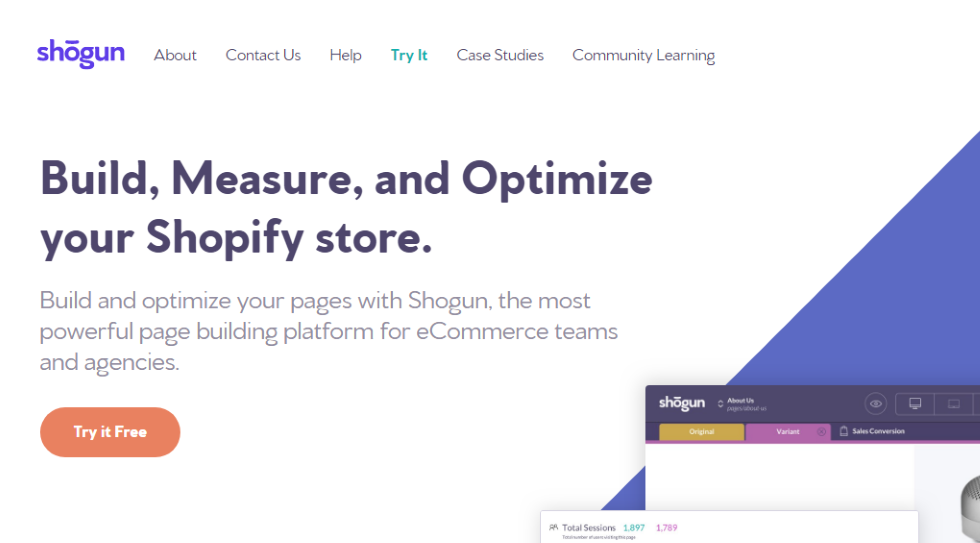 Visitors that land on a landing page vs homepage are less likely to bounce, resulting in fewer card abandonment and more conversions. In case you plan to start a paid campaign (whether it's a Facebook or Google Adwords Campaign) for your Shopify store, you should create a unique product landing page on Shopify.
The easiest way to create a dedicated product landing page on Shopify is through Shopify Apps. Here is a small list of Shopify Landing Page Builders: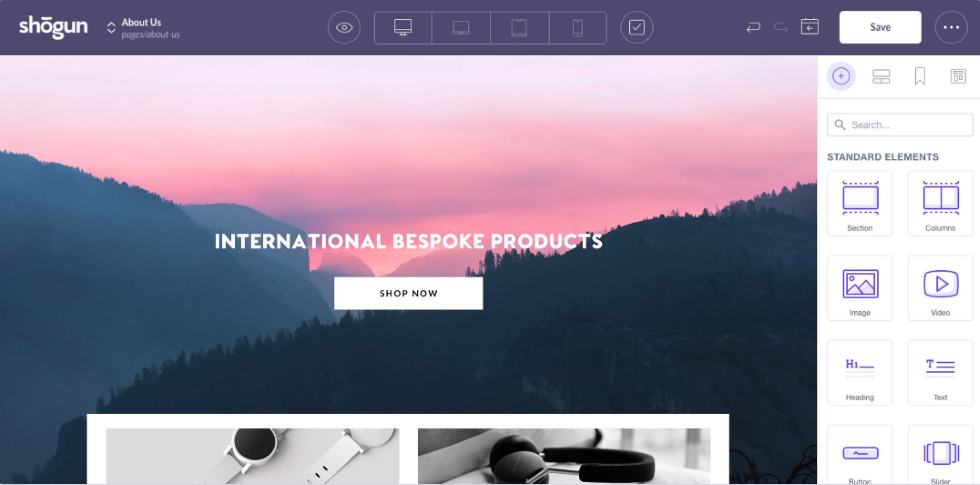 Drug-n-drop builder, no coding required.
Design product landing pages, coming soon, FAQ, contact us forms.
Import existing pages to edit them in the Shogun editor.
Over 30 landing page templates included in the base plan (Build).
SEO-Friendly & mobile responsive: allows to edit meta titles and descriptions and comes with an image compressor tool.
Supports most social media platform integrations and offers a 10-day free trial.
Starts from $39/month.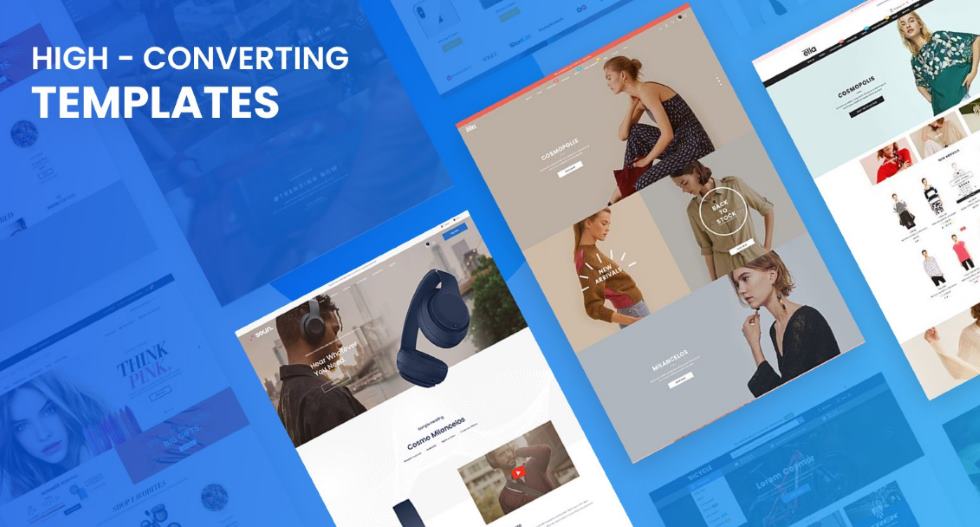 Affordable, feature-rich, and drag-and-drop landing page builder.
No coding experience required.
Selection of over 50 landing page templates.
Mobile responsive
Shopify elements include the crucial add to cart, quantity, image, price, countdown, and related product buttons.
Supports MailChimp, Klaviyo, Reviews Importer App, Google Analytics, and Facebook Ads.
Starts from $15/month & offers a 10-day free trial.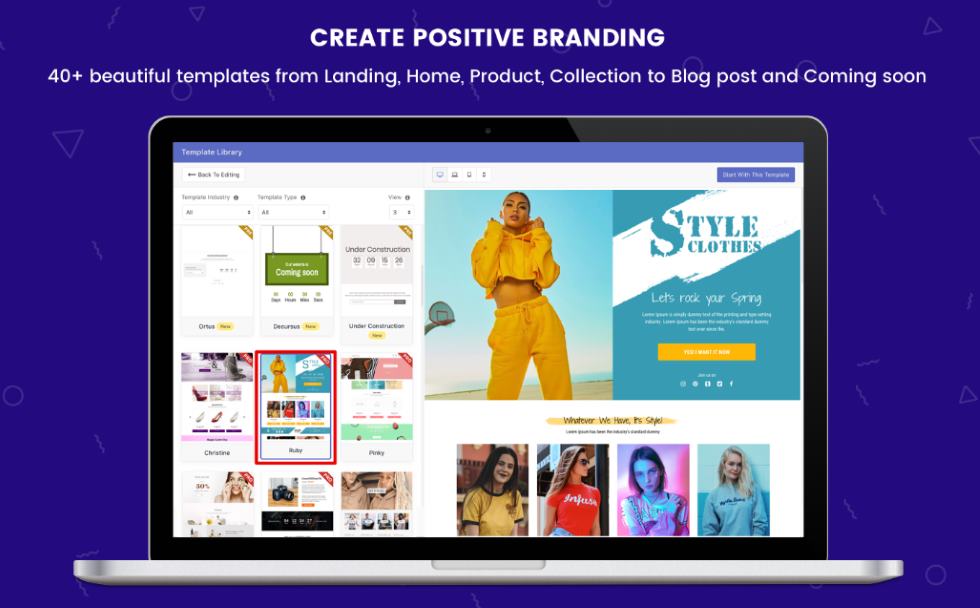 Drag-and-drop system designed for Shopify conversion rate optimization.
50+ Shopify page templates and 40 + page elements.
Mobile-friendly and Responsive.
An on-page SEO editing tool.
Social elements (Facebook, Twitter, etc.) and blog posts.
Integrates with Google Analytics, Facebook Pixel, Facebook Ads, Loox - product review app and judge.me.
Free Plan Available, Pro Plan costs $9.95/month.
#4 Shopify Store Language Optimization
There was a time when making a website multilingual was all about pain. But that was long before the era of website translation services and apps. Ecommerce is arguably the most customer-centered field, and Shopify is in this league. So how does language optimization work for Shopify, and why it is that crucial?
Having a multilingual website helps to increase your online visibility and search ranking potential. If you want to go global, being indexed and searchable in different languages has fundamental importance. Moreover, customer experience is the key to a high converting online retail business, and providing a choice of language will definitely increase user satisfaction for the target audience.
So, what languages your store should be available in? Start with Shopify Analytics.
Reports → Acquisition → Visitor Location
Shopify will show you the locations for your online store visitors. Choose the major locations (you can choose as many as you want, but it's better to start with 2-4 locations) and do your research to find out the main languages spoken in that locations. If you have the US, let's say, you have at least 350 languages spoken, and the choice of language(s) out of these 350 depends on the specifics of your target audience (e.g. Hispanic Americans, Chinese-Americans, Italian-Americans, etc.)
Moreover, if you have already integrated Google Analytics with your Shopify store, things get easier. Google Analytics delivers language reports based on the language of the user's browser, which gives you more accurate data on which languages your store should be available in. Examine the data for at least the last 6-8 months to catch the long-time trend. Again, take the 2-4 main languages for website translation.
Now, as you know in which languages your online store should be available in, you can easily make it multilingual through one of the best multilingual apps available in Shopify: GTranslate.

GTranslate has both free and paid plans (starting from $5.99/month) and is entirely SEO-friendly, offering search engine indexing and URL Translation along with the translation services. Moreover, GTranslate has an auto-switch function, which automatically translates the website in the language of the user's browser. (e.g., if your visitor uses a browser in French, GTransale will translate your website in French).
Configuring GTranslate is as easy as 1-2-3, and in case you experience any difficulties, they have a super-responsive support team to help you out. You can start GTranslate with a 15-day free trial and cancel anytime.
Shopify continuously provides new opportunities to optimize your store for more conversions, and it can sometimes be dazzling to research and understand the strategy that fits the best for your business. While there can be exclusions, the professional implementation of the 4-step guide above certainly guarantees you a better converting Shopify Store regardless of your product on sale.